In recent years the cellular and molecular mechanisms of temperature sensing and thermoregulation are subject of intensive research. Some researchers have evidenced the limits of the existing tests: to overcome current limitations we have designed a novel circular thermal gradient assay, for thermal preference phenotyping, based on the paper "Comprehensive thermal Preference Phenotyping in Mice using a Novel Automated Circular Gradient Assay", published by University Erlangen-Nuernberg (see Zimmmermann's paper). The new TGR (Thermal Gradient Ring) provides a high degree of freedom, i.e. thermal choice, and eliminates experimenter bias
The TGR is suitable to test neuropathic pain, and allows discerning exploratory behavior from thermal selection behavior!
The advantages brought about by the circular design are duplicate values, no border effects and no spatial cues, guaranteeing bias-free, reproducible data. The TGR is more sensitive than previous methods: gradient setup is superior to two plate choice design (reflects a more complex physiological environment, requires less time, less manpower and less mice).
The TGR consists of a circular running track, which provides a thermal gradient between the two extremes of a cold (15°C) and a hot zone (40°C) in which the mouse is free to move. The Thermal Insulated Ring-shaped Aluminium Runway has an ID of 45cm and 57cm OD.
A heater on one side of the ring, and cooler on the opposite side (based on the well tested technology employed in Ugo Basile Hot/Cold Plate NG), respectively heats and cools the extremes of the ring, creating a symmetric thermal gradient, controlled by 4 embedded thermocouples measuring the exact temperature gradient in real time.
Each side of the ring is divided into 12 zones, in which the temperature Δ is proportionally divided: for example, in the protocol described in the method paper, where the two preset temperatures are respectively 15°C and 40°C, each sector represents an increment of 2.27°C.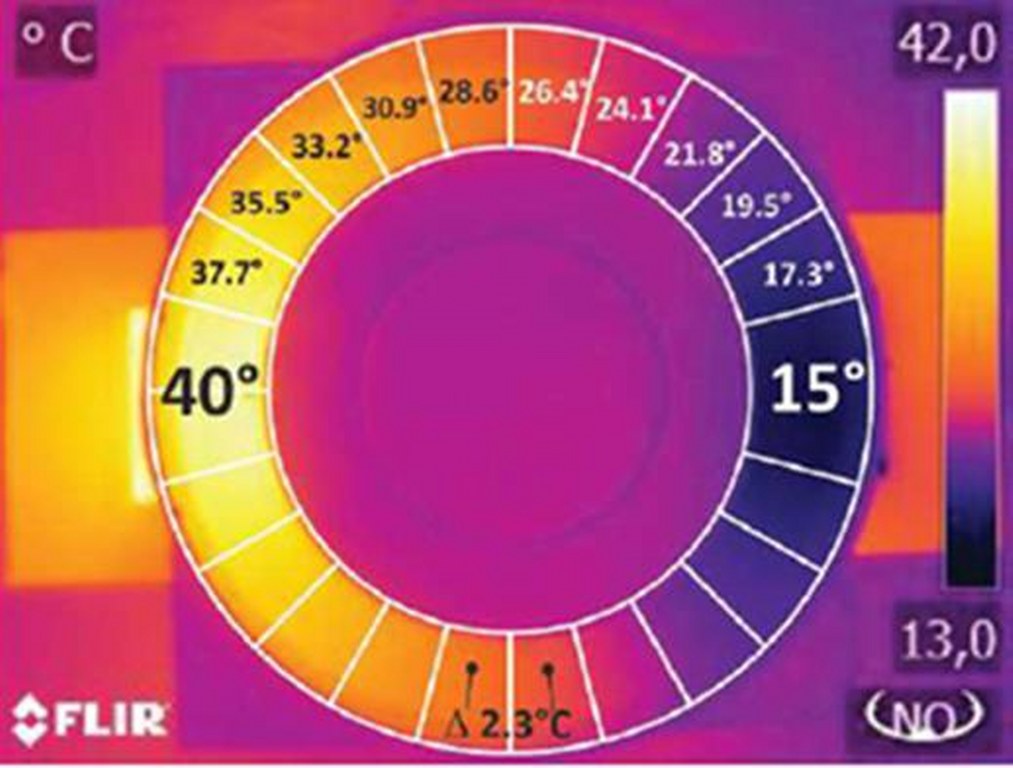 Recording and analysis of thermal preference behavior is accomplished by ANYmaze. Data output include:
Preference Temperature time course ± SD
Time lag to cover zones above a defined temperature (time course)
Zone histogram