The detection of Freezing is automated and based on video analysis, by using the Any-Maze software (specific version for Fear Conditioning), which also controls the shocker and the sound generator.
The Ugo Basile Fear Conditioning systems are designed to run experiments of Pavlovian conditioning on mice or rats. Single-frequency sounds are delivered as neutral or conditioned, stimulus (CS). Experimental procedures which contemplate the sound as CS are usually referred to as Cued Fear Conditioning. Electric current from the grid floor is delivered as the naturally aversive, or unconditioned stimulus (US).
Tests are run in an animal cage with a grid floor, whose appearance can be easily altered by attaching patterned contexts on the walls and floor. This allows for the investigation of Contextual Fear Conditioning, in which the CS is not the sound but the visual appearance of the cage (i.e. the context) itself. In this case the animal associates the electric shock to the environment where it was received.
The detection of freezing is automated and based on video analysis. The shock, light and sound parameters are controlled by software (USB) or manually, via the new controller, based on touchscreen technology. The context kit provided with each cage alter the animal cage appearance, allowing for both Contextual and Cued procedures to be run with the same system. Our Fear Conditioning system works also in total darkness.
The basic system includes the following components:
Controller with touch-screen (with new application software NG)
Animal box(either rat or mouse) with electrified floor and Context Kit (3 floors, 9 walls)
Isolation Cubicle, dual (visible/I.R.) LED light, speaker and fan
The complete system also includes:
Freezing-detection Software
USB videocamera
Preinstalled PC can be supplied as optional.
The 40500-001 Controller, incorporating a 12" touch-screen, encompasses all controls and incorporates a constant-current high precision 8-pole shocker. Up to 4 cages can be connected to the same controller.
The set-ups include Sound-proof isolation cubicles with dual light, speaker and fan: cubicles for special applications (for tethered animals, or with special lead sheets, to cut electromagnetic interference) are also available, see the specific web-page.
The FC set-up is part of UB conditioning-cage project; you buy a single touch-screen controller, and manage all UB cages. Ask for details!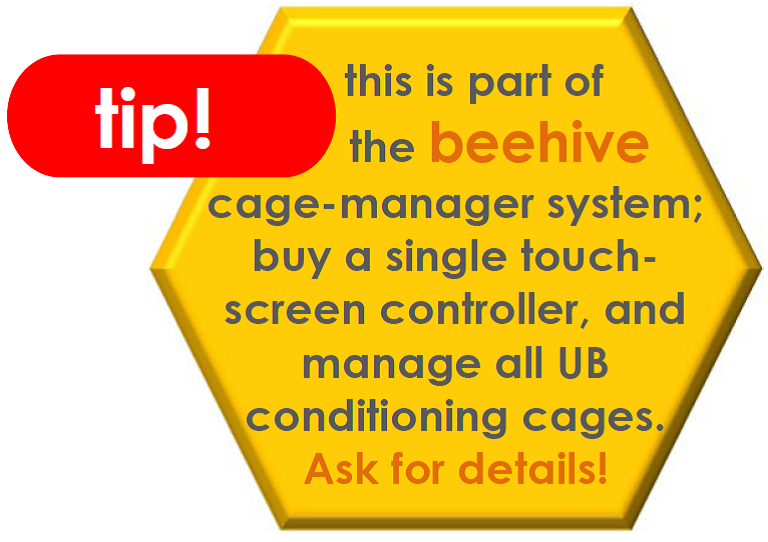 Remote Control feature will make remote service and software upgrades extremely simple!